MODERN ARE ONE OF AUSTRALIA'S LEADING
ALUMINIUM LOUVRE SHUTTER EXPERTS
Transform outdoor areas into areas you can use year round with the help of Modern's louvre shutters. Our high quality outdoor aluminium louvre shutters are made to last, helping you with added privacy, security and weather control.

Create the Perfect Outdoor Entertaining Area with Modern Louvre Shutters
Benefits of Choosing Modern Louvre Shutters
Australian Made
Our Louvre Shutters are made locally in Brisbane which ensures quick installation.
Privacy
Transform outdoor areas into locations free from nosey neighbours and enjoy the outdoors year round.
Weather Control
Bring the outside in, block out the wind and rain when you need it most.
Choice of Areas
Louvre shutters have plenty of uses in locations such as alfresco areas, balcony enclosures, room dividers and privacy screens.
40 Years'  Experience
Our vast experience means we know what works best and what lasts.
Built to Last
Modern only use the best quality materials to ensure our products last. Modern's aluminium louvre shutters are practical as well as aesthetically pleasing that will not only enhance your home but add value should you ever wish to sell.
Louvre Shutter Styles Available
Modern's aluminium louvre shutters are practical as well as aesthetically pleasing, that will not only enhance your home but add value should you ever wish to sell.
Fixed Panel Louvre
Offers the simplest form of installation and operation. C channels can be fixed permanently to the top and bottom of the application and the Fixed Panel Louvre then pivots inside the framework.
Bi-Fold Louvre
Provide a versatile option for the balcony or patio areas by offering a choice of total enclosure and protection from the elements when in a closed position, yet still maintaining the availability of clearing the opening completely by folding the panels and pushing them to one side.
Hinged Louvre
Are a practical and aesthetically pleasing choice for exterior windows and doorways.
Available to swing either inwards or outwards, these shutters can be supplied with a L/Z frame for a neat finish.
Sliding Louvre
Are an ideal choice for sun protection and privacy on applications where space around the opening is limited. The panels can slide left or right by running along top
and bottom tracks.
Stacking Louvre
Add another dimension to the Sliding installation type. Operation of the panels is the same, however an H section is installed at the end of the tracks which the panels can stack into, providing the option of completely uncovering the opening and storing of the panels in a stacked position.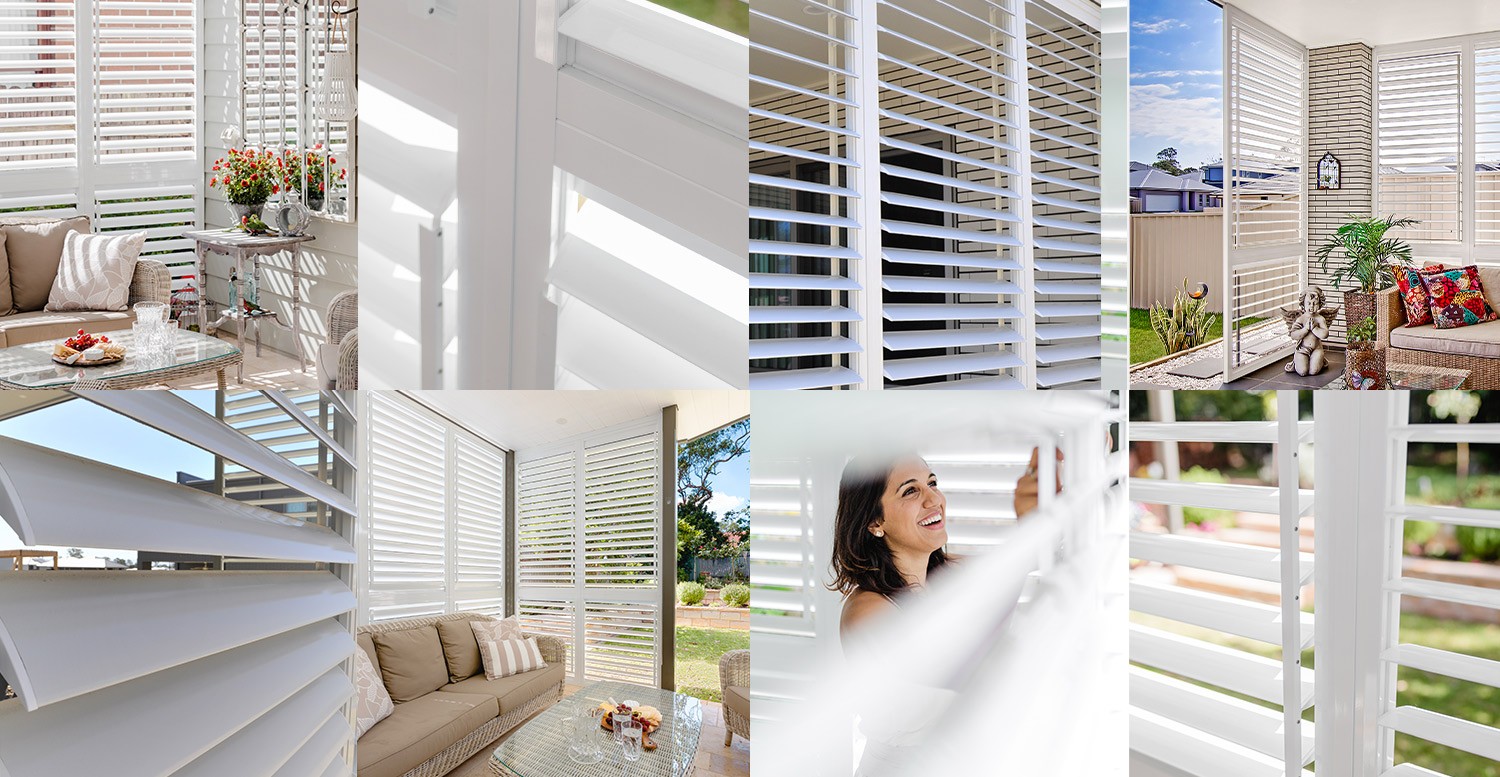 Sleek, Practical & Functional Louvre Shutters
Modern have over 40 years' experience, over this time we have perfected our louvre shutters to be both stylish and functional. Our Australian based manufacturing plant allows us to provide our customers with quick turnaround times compared to our overseas competitors.
Proudly Australian
We have been in the home improvement industry for over 40 years. This has allowed us to create a quality, tested product that Australians love.
Quick Installation
Owned and made locally in Australia ensures your shutters are installed in no time.
Block Out The Elements
Modern Louvre shutters provide sun protection and shading with excellent insulating qualities.
Quality Assured
Our louvre shutters are continually tested to ensure they are of the highest quality possible.
Environmentally Friendly
At Modern, we pride ourselves on being as environmentally friendly as possible.
Low Maintenance
Louvre shutters are incredibly easy to maintain. No complex cleaning products and difficult material. Just a quick wipe down with a general surface spray or mild detergent is all you need.