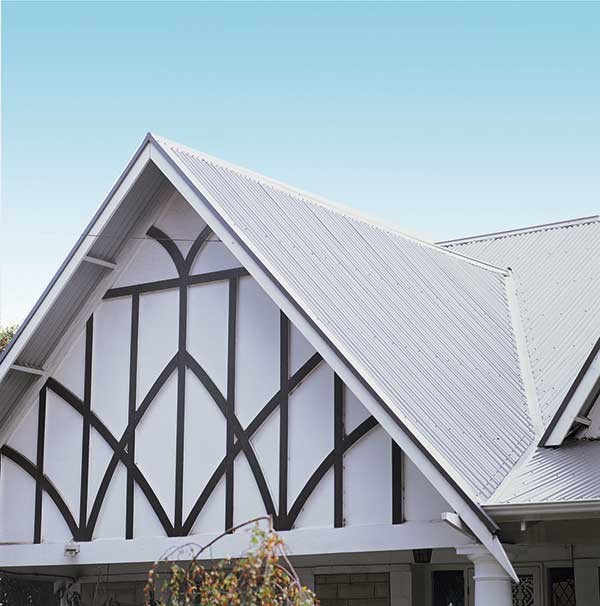 Transform and upgrade your old damaged roof with a roof replacement from Modern. A new roof can completely change the look of your home to be the envy of every house on the street.
Modern are the leaders in providing complete roof replacements for residential Australian homes. With over 35 years in the trade, our roofing specialists have worked with every material and roof imaginable when it comes to re-roofing.
While it may be tempting to keep making patch repairs to a faulty roof, in the long term, the cost and benefits or completely re-roofing will often be more cost efficient than the constant repairs. Roof replacements are solid home improvement investments, whether your roof is beyond repairing, or whether you're just looking for a new contemporary colour to lift the style and value of your home.
Left too long, a roof in need of repair can quickly become a total roof replacement; especially in areas where damaged roofs are exposed to the harsh Australian weather conditions.
An Accurate Cost for the Roof Replacement
One of the most common, but difficult questions when it comes to quoting roof replacements is – How much will it cost?
The key things to consider are:
1. How many square metres of your roof and
2. The roofing material is used for the replacement, such as terracotta, tile, steel, metal or cement.
Other factors to consider may include roof accessibility, underlying water damage, and the height of your roof. We can offer a free consultation, assessment and inspection to provide a costing breakdown for re-roofing your home. Our roofing professional can talk you through your options to determine whether a roof replacement if the best course of action, or whether an expert roof repair will do the trick.
Genuine COLORBOND® Sheeting & Similar Steel Alternatives
Genuine COLORBOND® sheeting are provided solely by the Australian manufacturer BlueScope. Simply look on the underside of your roofing to see the factory imprint stating 'made by BlueScope Steel' to determine if it's the real deal. We work with COLORBOND® and similar Colorbond alternatives for our roof replacements due to their longevity, sturdiness and range of contemporary colours.
Improved Home Insulation, Lower Power Bills
Our tile roof replacements come with SUPABLOCK® heat reflective coatings, while COLORBOND's metal roof replacements come with THERMATECH® technology. This means in summer, energy use can be reduced up to 20% by reducing the transfer of heat indoors, meaning less reliance on your air conditioning. You can even choose any colour you like without concern over the heat reflection properties of darker vs lighter colours – Even dark roof colours with THERMATECH® are still just as effective at reflecting roof heat on your new roof replacement.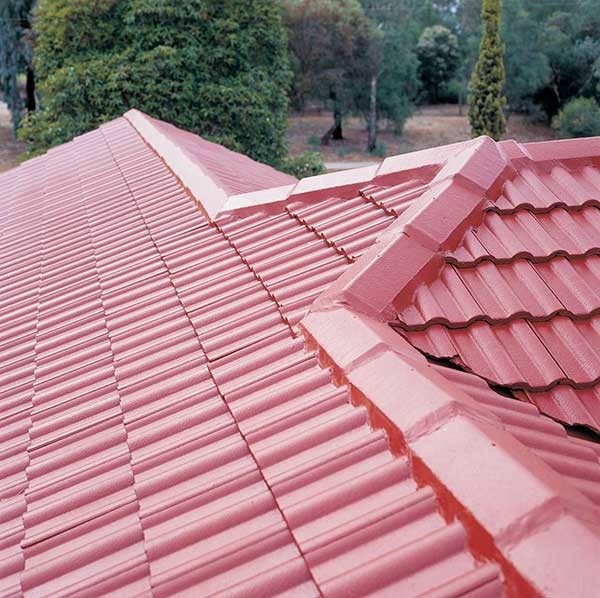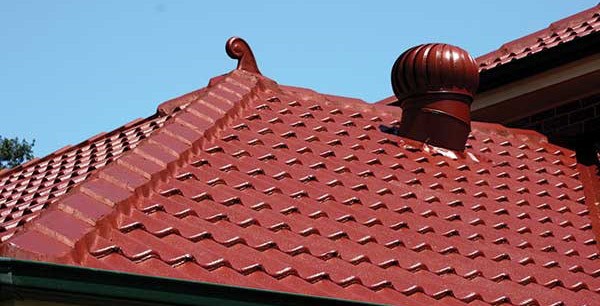 Tile Roof Replacement
A Modern tile roof replacement provides an effective way to transform and upgrade your old tiled or metal roof while ensuring the structural integrity of the roof. Our large range of options and styles, along with our undeniable 35 years industry experience simply makes Modern the right choice to replace your roof to its former style and condition.
The Modern tile roof replacement process includes:
Removal of your Old Roof.
Our tile roof replacement specialists will strip the existing roofing materials in preparation for the new tiles. At this point, any underlying water damage or corrosion can also be assessed.
Sarking Fitted onto the Frame (if required).
As a protective skin under your roof, roof sarking acts as an additional layer of protection and insultation for your home.
Installation of battens.
We fix the roof battens in preparation for the new tiles.
New tiles are laid.
Brand new terracotta or cement roof tiles are laid down and secured to protect against water and debris.
Ridge capping re-bedded and re-pointed.
Finally, we re-bed and point the ridges of your roof, sealing the edges with flexible pointing compounds.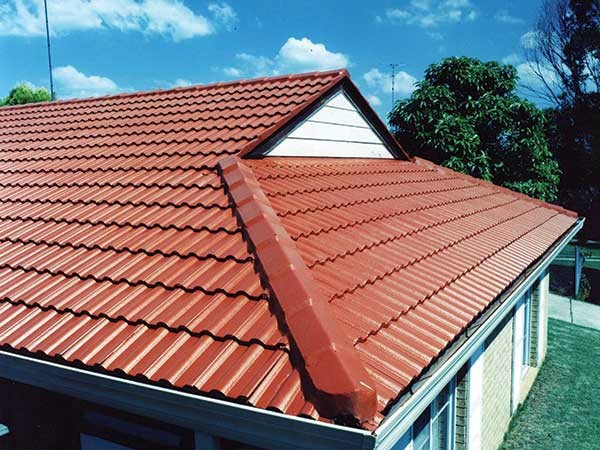 Metal Roof Replacement
Is your metal roof too old to restore? Modern also specialise in metal roof replacement, using COLORBOND® steel supplied by BlueScope, with a range of 12 colours to choose from.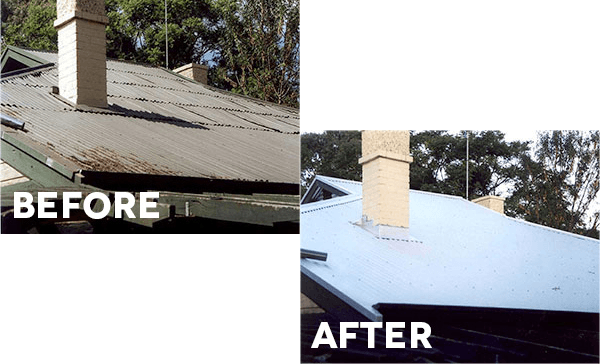 Removal of your Old Roof
Out with the chippec concrete, corroded iron or tired tin – Our metal roof replacement specialists will strip the existing roofing materials in preparation for the new sheets. At this point, any underlying water damage or corrosion can also be assessed.
Installation of battens
The battens act as fixing points. We secure the metal sheets and cover with a batten roll joint.
New COLORBOND® sheets are laid.
As a final step, we lay the COLORBOND® sheeting, securing and completing the re-roofing installation.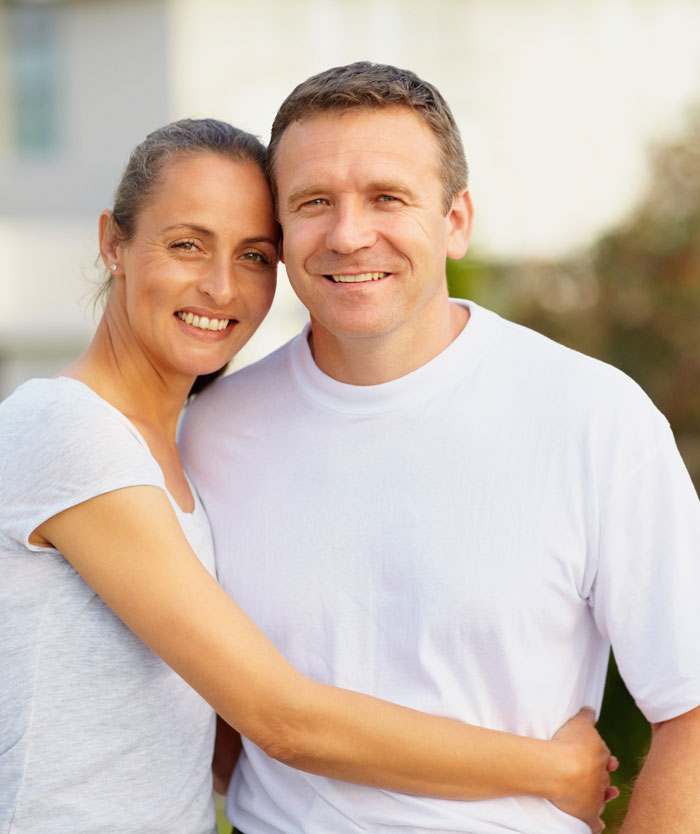 Thank you for a wonderful job on my roof.
"The colour is fantastic and it has given the whole house a 'lift'. The roof looks fantastic, and I know that it is safe and secure which has added value and benefits that will last for years. I would recommend your services to others who are considering getting a new roof done as well. Great work!"
Cliff did a great job working on our roof - it was as if he was working on his own house.
"The last couple of times we had a storm and heavy wind, it blew a couple of tiles off. Now, I don't like heights, we called the S.E.S but they wouldn't come out – and it was about to pour again. I'd seen the TV programs of Modern, and a couple colleagues from work said that they had got their roof with Modern. They said it how it is – You get what you pay for. Cliff did a great job working on our roof – it was as if he was working on his own house. That was what really blew me away – The amount of time that he spent on the roof to get it perfect, there's no way I could've done it. When anybody asks now, I tell them – If you need to get a roof done, get it done properly, get it done once, and give Modern a call."
Alberto Saitta, Doreen VIC