Gutter Replacements
Gutters and downpipes are often overlooked in the home maintenance schedule – Yet they are one of the most important components due to the large volume of water that falls on the average Australian roof. Neglecting them means running the risk of major damage through leaks caused by blocked or damaged guttering and downpipes.
Tired of constant leak and concern over damage to your property? Gutter leaks are bearable at first, but when left unmanaged can lead to severe interior leaks and roof damage.
Because guttering and downpipes are constantly exposed to the elements, the conditions of your gutters weakens over time. If you identify a weak or rusted spot, it's normally an indication that it's time for your gutter replacement.
We pride ourselves on superior workmanship and use only the highest quality materials for our guttering, downpipes, and fascia products. Modern gutters and downpipes not only look great, they also give your home added roofing protection by carrying rainwater to the ground.
No More Leaks
Because leaking gutters are often beyond repair due to rust and corrosion, we can make sure any leaky joins are sealed with  replacement gutters and downpipes. Our guttering is accurately measured and assembled to guarantee a proper fit that will eliminate leaks and effectively transfer rainwater to the ground. Get in touch with us today for a free gutter inspection and a free consultation to estimate the cost of guttering work for your home.
Gutters, Downpipes, Leaf Guards, Fascias
We've worked with all roof and gutter problems that the harsh Australian weather conditions throw at us. Rusty gutters, damaged downpipes, clogged gutter guards, rotted fascias – ​We've seen it all and can help identify the problem, then determine the most affordable solution for your guttering and roof ecosystem.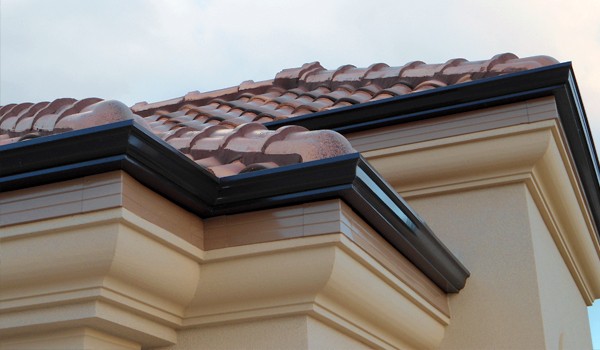 Your Guttering Options
From COLORBOND to Aluminium, we have gutters to match your home and budget.
Ever had gutters that deteriorated much faster than you expected? You may have had budget materials or workmanship. ​Our gutter specialists can work with top quality COLORBOND and aluminium gutters, which are far sturdier and resistant to rust and leaks.
With 26 colours to choose from, Modern guttering and downpipes perfectly complement your roof, guaranteeing the ideal finish to your home. Find out more about our guttering materials that our roof plumbing experts work with below.
Aluminium Guttering
​There's a good reason why so many homeowners choose aluminium gutters. For starters, aluminium won't rust – Which is enough information to sell itself. ​This is the ideal solution if you're looking for a gutter replacement that will not only last, but will also improve the aesthetics and style of your home.
COLORBOND Guttering
Steel gutters, sometimes referred to as COLORBOND, are a resistant, durable and stylish choice for your gutters. Available in a wide range of colours, COLORBOND steel gutters are fast to install and offer a strong exterior coating to protect against damage from flaking and peeling. Steel guttering is often more affordable than aluminium but is still extremely durable and resistant to rust and leaks over time.
Not Sure? Just Need Professional Guidance?
Unsure about the real difference between Aluminium and steel? Confused by ZINCALUME? Just want the best for your home? ​Contact us for a complimentary gutter inspection. We will talk you through your options and help you decide on the best guttering and downpipe solution for your home based on your budget and style.
We have local gutter replacement experts available in Sydney, Newcastle, Central Coast, Brisbane, Adelaide and Perth.