Whether you're after lower energy bills, elevated style or protection from sun, there are plenty of reasons to add window treatments to your home. You might be researching your choices and wondering which new addition is right for your home.
Here's what you should know about curtains, blinds and plantation shutters.
Curtains and blinds in your home
When it comes to curtains, blinds and shutters, you have a lot of choices. You might find yourself wondering where to start. Understanding the benefits of each window treatment will help you make the best decision for your home.
Curtains are made from one or two pieces of fabric panels that are typically used in pairs. These can be made from both light and heavy material in a variety of patterns and colours. Blinds, on the other hand, are made from several small pieces that tilt to block out sunlight. Finally, style meets practicality and functionality, plantation shutters are a sturdy solution that's mounted to your window's frame and tilt for superior adjustability.
How should you decide between curtains, blinds and shutters?
Before purchasing blinds or curtains for your home, there are a few things you should consider. The first is whether price or quality is more important to you. Curtains can be a great option if you're looking for an affordable window treatment, but they're also prone to fading and tearing. Because they're not as sturdy as plantation shutters, it's likely you'll need to replace them every couple of years.
If you're debating whether to install blinds or shutters in your home, you might also consider how much adjustability you want. While curtains tend to let through a small amount of light even when closed, shutters allow you to choose how much light and sound make their way into your home.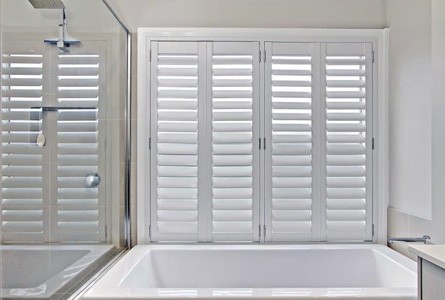 Long-lasting
Plantation shutters are made from sturdy material and fitted to your window frames by trained professionals. This means that they'll last longer than blinds or curtains, which will save you money and time down the track.
Provide insulation
Plantation shutters effectively insulate your home, trapping cool air in the summer and warm air in the winter. Insulation will not only keep your home comfortable but also reduce energy bills.
Noise Reduction and Light Control
Easily control your home's exposure to light and noise in seconds. Modern Plantation Shutters are great for reducing harsh glare and protecting home furnishings and carpet from fading.
Timeless aesthetic
Plantation shutters add an element of elegance to your home. Their timeless appeal has been proven by decades of use. Because of their classic style, they fit seamlessly with existing home décor, so you won't have to redecorate an entire room to add your shutters.
Low maintenance
One of the biggest benefits of plantation shutters is that they're low maintenance. Modern uses a unique, dense polymer foam that will never crack, warp or discolour, saving you from big maintenance bills. They're also easy to clean, requiring only a quick wipe with a rag to be restored to a spotless shine.
Eco-friendly
Modern Plantation Shutters are made from non-toxic and 100% fully recyclable material, making them both safe and environmentally friendly. They'll reduce your carbon footprint and make your home a little bit greener.
Get a Free Consultant for Modern Plantation Shutters today.
If you feel your house needs a bit more protection from the sun, let Modern help.
Our team have been helping Australian's stay cool for over 25 years! Call 13 11 78 today to arrange a quote!
How Modern can help
Choosing new window treatments can seem like a tough decision, but it doesn't have to be! Modern can help you choose the best option for your home and provide you with valuable expertise. We'll make sure to offer the best and most affordable solution that will stand the test of time.
Your shutters will also be installed quickly and easily by our expert installers. We'll come to your home to ensure a custom fit for your windows. After your shutters are assembled, our installers will return to install your custom-built products.
To learn more about plantation shutters or to organise a free quote, contact Modern today!