Making aesthetic improvements to the outside areas of your home can quickly get overwhelming!   A great place to start is with outdoor shutters such as louvre shutters. While this option can be cheaper than other renovations, it ends up making a huge impact. We're here to help you navigate the different types of louvre shutters designs available so you can figure out what might be best for your outdoor needs. 
What Are Louvre Shutters and What Are the Benefits? 
Built by design
Louvre shutters can consist of horizontal or vertical slats that are often tilted for ambient light while keeping out direct intense sunlight and rain. These shutters can be made from many different materials, including wood, metal, glass, or aluminium. Some louvre shutters can be adjusted easily, allowing for more privacy, full sunlight blocking, or rain protection. Types of louvre shutters include fixed panel louvres, bi-fold louvres, hinged louvres, sliding louvres, and stacking louvres. All of these types provide different functionality. 
Add value to the home
The most obvious benefit of installing louvre shutters is the increase your property value. Because of their striking aesthetic benefits they can turn an ordinary outdoor space into something unique and eye-catching. They are easier than many outdoor solutions to keep maintained, which is a big bonus when considering monetary value. Good louvre shutters are also made to last a long time and some are made from extremely long-lasting material like aluminium. 
Privacy
Louvre shutters allow for additional privacy, which means that you can easily lounge in an outdoor area without feeling like your neighbours are snooping. Different types of louvres will slide and fold to help you make an area private when you feel it is necessary. 
Since louvres can help enclose a space, it also means they can provide weather protection. High-quality louvre shutters will help block out wind and rain, which means that you can enjoy an enclosed outdoor space even if it is drizzling out. This also means that you can worry less about the furniture you keep outdoors. A good material choice, if you live in a rainy area, would be aluminium louvre shutters, which often provide better weather shielding.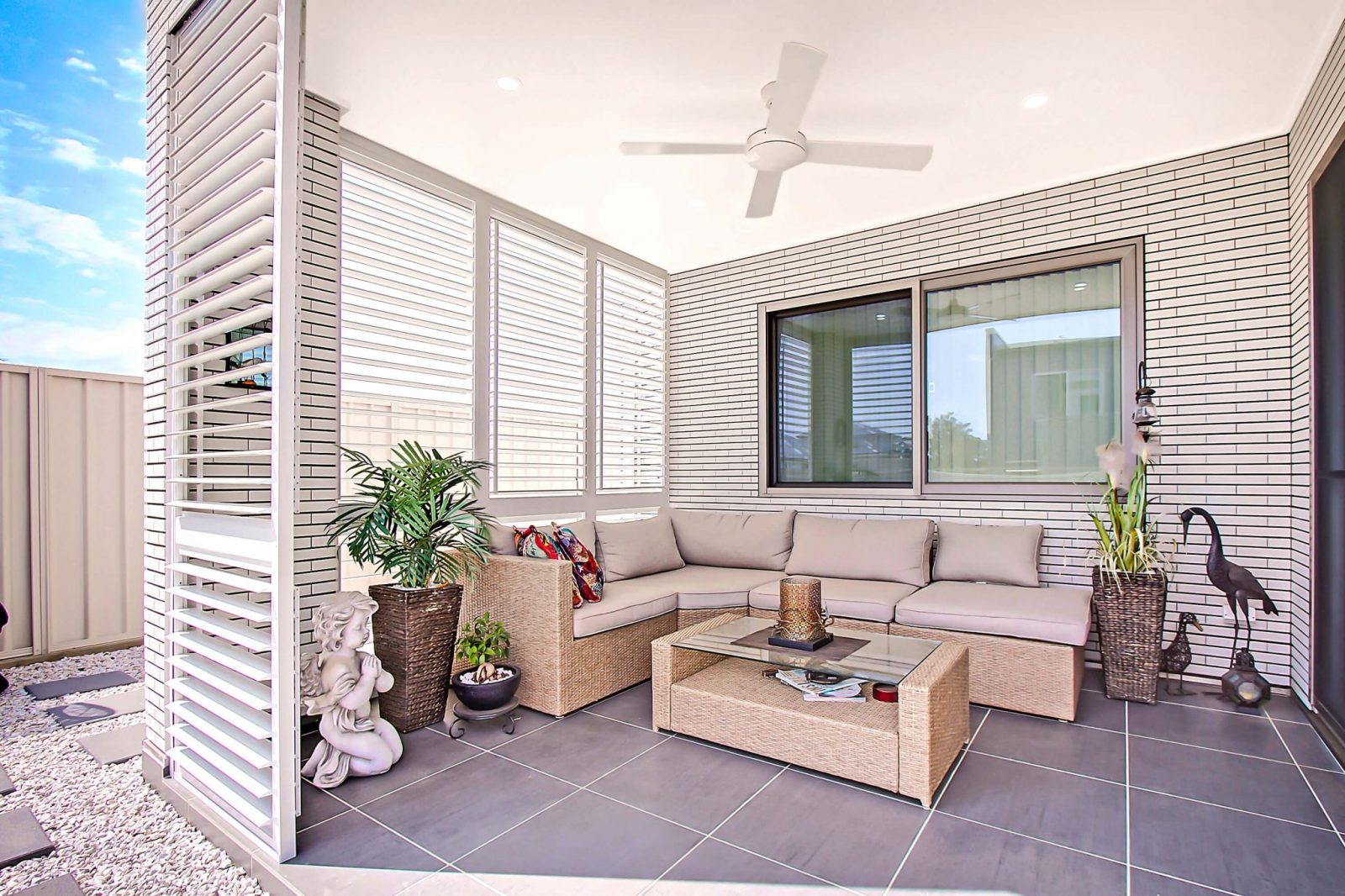 Different Types of Louvre Shutters 
There are many different kinds of louvre shutters that you can pick from for your specific needs and aesthetic preferences. When making a choice, it is important to think of what is functionally important to you as well as what will look best for your location.
Fixed Panel Louvres
These are easy to install and use, it pivots inside of the framework due to the C channels being permanently fixed to the top and bottoms of the application.
Bi-Fold Louvres
Allows the ability of clearing the opening completely by folding the panels and pushing them to one side
Hinged Louvres
 The benefit of these was that they swing both in and out, and also have the ability to be supplied with an L/Z frame.
Sliding Louvres
These panels can slide both left and right across tracks that run on the top and bottom of the sliding louvres. This means they are great for privacy and sun shielding.
Stacking Louvres
While similar to the sliding louvres, they have an additional H section at the end of the tracks, which allows for the complete opening and storing of the panels.
Why We Love Aluminium Louvres
Unlike wood or plastic that can warp due to moisture, heat, or excess weight, Aluminium is extremely strong and resistant to environmental pressures. It offers so much insulation from the elements; in fact, it can save households up to 35% in energy costs.
Aluminium offers the best of both worlds. It has the longevity of synthetic material while mimicking the beauty of timber. This allows you to balance between durability, style, function, and cost. Aluminium Louvre shutters are guaranteed not to discolour, crack, warp, shrink, or lose tension.
What's more, aluminium has multiple benefits you simply can't match with other wood or plastic plantation shutters, including:
They're engineered to cope with severe weather conditions found in Australia and have been developed to minimise noise and movement in high winds.
All blades and panel frames incorporate high quality hair felt that provides a sealing point that minimises wind and rain effects when the shutters are closed.
The blades are built to withstand 100kg over a 1-meter span and are the strongest on the market.
Nylon glass reinforced pivots prevent maintenance issues that are associated with other rolling mechanisms.
Fully customisable to fit all window situations and balcony designs.
Multi-tracking configurations allow design constraints to be resolved.
One of the most common complaints customers have with Aluminium styled plantation shutters are the unsightly floor tracking systems. our product comes with the option of being securely attached from a top fixing. Clients still get the benefit of a secure operation, without the unattractive floor track.
With guaranteed longevity and flexible design options built for Australian weather conditions, our clients get benefits that just aren't available from other external plantation shutter materials.
How can Modern Help? 
Modern is one of Australia's leading aluminium louvre shutter experts. We have over 40 years of experience and are experts in helping choose what works best for a project, as well as what will last in your environment. We use only the top quality materials, so you can know that not only will your louvre shutters look beautiful, but they will hold up against the test of time. All of our Australian made shutters will provide amazing privacy for your outdoor space, as well as weather control. With us, as a quality assured choice, you can be reassured that your choice will not only be low maintenance but it will also have the benefit of being environmentally friendly. 
To learn more about Modern Louvre Shutters contact us today!